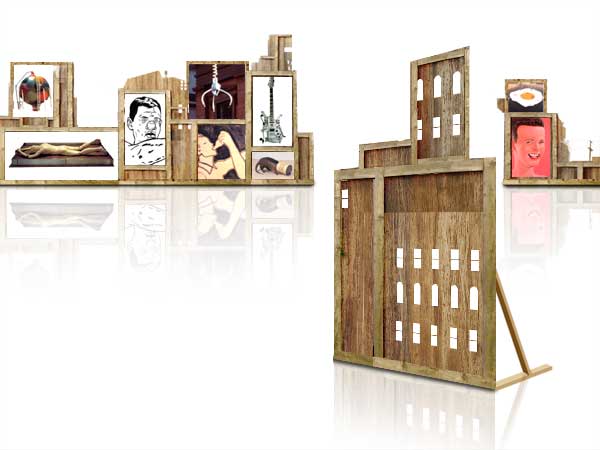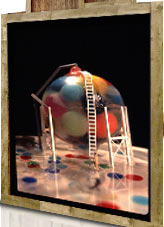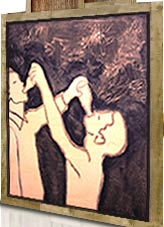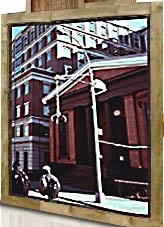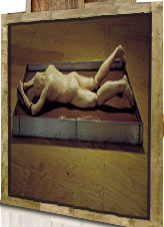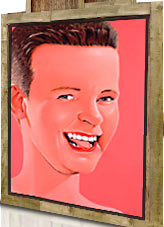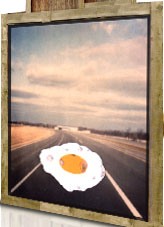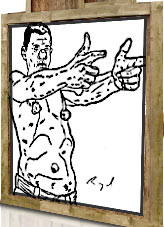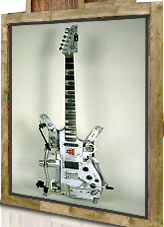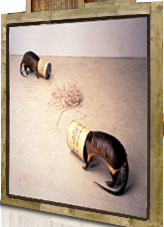 Ida Applebroog is a native New Yorker, born in the Bronx in 1929. She was educated at the New York Institute of Applied Arts and Sciences, 1948-50, followed by study at the School of the Art Institute of Chicago, 1965-68.

Sean Mellyn, born in Providence, Rhode Island in 1965, is recognized for his post pop renderings of frighteningly squeaky-clean children. He portrays faces of children wearing perverse grins with "toilet-bowl-clean teeth," seemingly commenting on the popular culture of advertising and mass media as inexpressive and bleak.

Thirty-one year old, Puerto Rican born - Arnoldo Morales lives and works in New York City. Known for rewiring complex, scavenged machinery into creative electrical systems resembling "faux weaponry," Morales' pieces have been dubbed aggressive. They can also be interpreted as extensions and symbols of the desire for individual power and social supremacy.

Roxy Paine is a New York City Native, educated at the Pratt Institute in Brooklyn, NY and the College of Santa Fe, NM. His body of work is diverse and distinct. As David Gibson writes for zingmagazine (1997): "Paine's work connects artmaking to the theoretical and logistical methods employed passively by the artist in creating an active art object.

Rudy Royval, an El Paso, Texas native, is known for his innovative and unusual rendering of the human body, often in sexually explicit situations. His sensationalist style is most often an attempt to manipulate the meaning of taboo subjects through rendering sober images as posters or comic drawings.
Suzanne Tyler Wright lives and works in New York City. She received her Bachelor of Fine Arts from The Cooper Union, New York in 1990. She has contributed work to exhibitions such as Anywhere But Here, Artist Space, The End, Exit Art, New York, both this year, as well as, White Room, White columns, New York, Surveying the Landscape, Lombard-Freid, New York, and Sculpture Performance at the Jack Tilton Gallery, New York, all in 1999.

Javier Tellez lives and works in Long Island City, NY. Tellez has won numerous awards including the John Simon Guggenheim Memorial Fellowship, New York, 1999, the Whitney Independent Program 1997-1998 from the Whitney Museum in New York, as well as from 1993-1994, the P.S.1 International Studio program, P.S.1 Museum, New York.

Ken Butler is an artist and musician whose hybrid musical instruments, collage drawings, performances, and installations explore the interaction and transformation of common objects, altered images, sounds and silence.