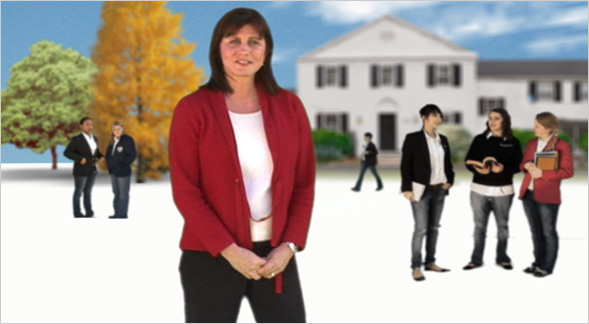 Three Humans wins prestigious Gold CASE Award
The Centre of Advancement and Support in Education (CASE) announced in 2008, in their Accolades Awards Program, that Three Humans had been awarded the prestigious gold CASE award for the student recruitment DVD they produced to promote the independedent girls boarding school, Purnell, in New Jersey and its new "Affinities" learning program.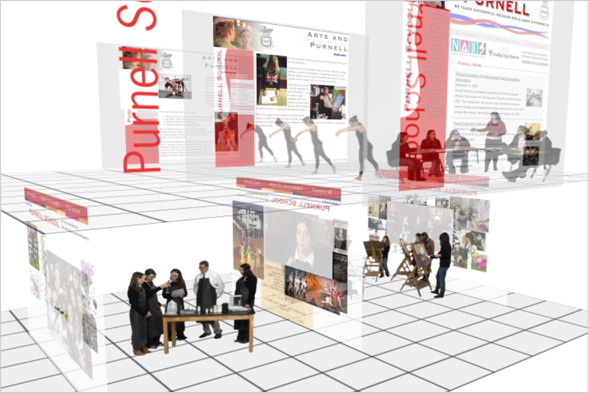 About Purnell
Purnell is an independent girls boarding high school in central New Jersey with a full time enrollment of 125 students. Founded in 1963, the School's mission is to educate young women in grades nine through twelve whose potential has not previously been realized and to prepare them for college. Since its founding, the school has remained committed to serving girls who have struggled in other academic settings. Therefore, a premium is placed on creative teaching and creating curricula which meets students where they are.
Purnell Head of School Jenifer Fox created the Affinities Program, a four year program designed to help students identify, cultivate and leverage their learning, activity and relationship strengths. In March 2006, the Program was awarded a Leading Edge Award by the National Association of Independent Schools in the category of Equity and Justice.
National recognition for the Affinities Program, its demonstrated success and the general weariness of the current admissions DVD provided the catalyst to design a new school DVD. The new DVD serves dual purposes. As an admissions tool it is sent to all inquiries to the school as well as referring schools and consultants. On the development side, it will be sent to all major gift prospects, shown at alumnae gatherings and presented to companies and foundations who are interested in investing time and energy in Purnell's efforts to provide an alternative high school model for both public and other independent schools.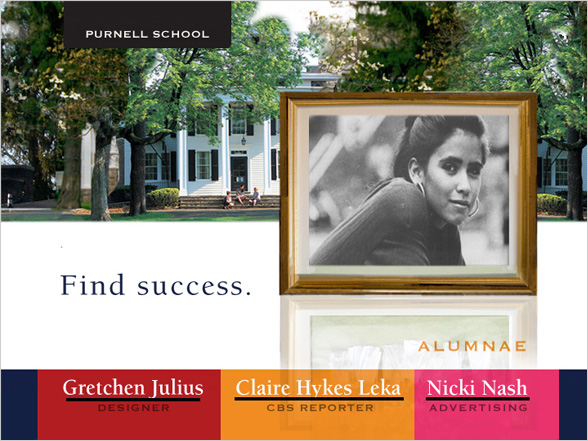 About the DVD
The school wanted the DVD to have a look very different from traditional school videos in line with the school's commitment to approaching high school education differently. They also wanted something that looked contemporary and cutting edge to reflect the school's forward thinking stance. Finally, it was important that the piece feel "high-tech, but hand-made" to reflect the schools commitment to using the latest in brain research and instructional technology while maintaining a very personalized classroom and residential atmosphere on a 19th century converted dairy farm.
Three Humans Inc filmed a cast of students, staff and parents in a 'green screen' studio set up in the school basketball court. and then used special effects to set them in a 'virtual' rendering of the school. THinc also provided script writing, animation, music composition, DVD authoring and duplication.
Numbers
DVD design and production- 5,000 units
Best Practices in Communications Gold Purnell School
"This project was really impressive with its professional multi-media packaging and unique message.
The video clips were compelling and the written material, well-done.."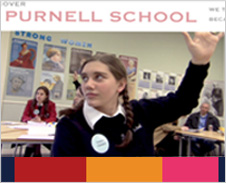 Student Recruitment
22F: Silver Purnell School
Take-your-breath away visual appeal. Crisp, good-looking blend of video and effects, and the good looks are backed up by the profoundly excellent content: students and administrators telling a compelling story with candor, grace, and personality.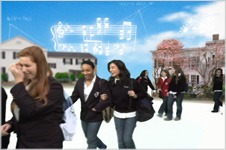 Online/CD/DVD content
Gold Purnell School
Comments: Vibrant, warm, inspiring, eye-catching, engaging. Heart warming, effective promotional materials.
Excellence at all levels' and there is something for everyone.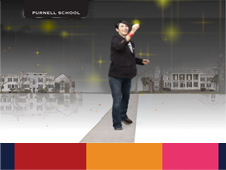 The DVD has four sections.
Discover Purnell

The centerpiece of the DVD, is the introductory video which uses animation and special effects to create a hi-tech'virtual' school evironment - a visal metaphor for Purnell's innovative new learning programs. Within the virtual school environment the viewer can see each student working to their strengths in different disciplines: arts, sciences, drama, sports, etc. The video incorporates excerpts from interviews with staff and students, 'vox pops' of the students talking about their affinities, and interaction between students and faculty.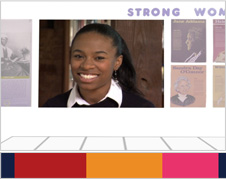 Explore Your Strengths
This section uses documentary footage of the school, showing how students are taught within the Affinities program, and features interviews with the Head of school and students.
Be Yourself
This section highlights student artwork (studio arts, photography and filmmaking), areas of particular excellence at Purnell and consistent draws to Admissions.
Find Success
This section highlights the stories of 3 Purnell alumnae, in sort mini-documentaries, showing how the transformative power of the school's Affinities program helps ensure students will be successful in the future.